Hollywood Magic
My good friend the Doc over at
Bitter Daze
has written a great post on the
Magical Negro
.
The "Magical Negro" (MN) is never the protagonist in a film, because she/he must support the star character [..] "The Magical Negro" often appears as someone uneducated and in a low station of life, such as a driver (ex. Morgan Freeman in Driving Miss Daisy) or prisoner (ex. Michael Duncan Clarke in Green Mile), and is depicted as wiser and spiritually deeper than the protagonist. The purpose of the "Magical Negro" in the plot is often to help the protagonist --who is almost always white--get out of trouble, and to help this white character recognize his own faults and overcome them. The Black character may literally have special powers, or he may be mysterious in a way that suggests otherworldliness.
Wonderful, hilarious and spot-on, Doc.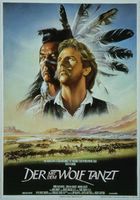 I would write a companion piece on the the Magical Indian, but arent all Indians magical? Don't they all speak to the animals, have visions, and say wise things in short mystical sentences, usually accompained by off-camera drums and chanting? The only exception to the Magical Indian would be the Angry Young Indian, who is often a warrior and hates the White Man at first. But once he realises the White Man in question (think
Kevin Coster
) is a Good White Man
TM
, he lets go of his anger and learns to love the White Man. At this point he, too, becomes a Magical Indian.
I would be remiss if I didn't mention there are also magical Asians. They often teach not only life lessons, but martial arts. That's way cooler than beadwork.
Dances With Wolves poster from German Release. Graham Greene looks particularly magical.